Membership...

Join the Outreach FCU family today!
Who Can Join Outreach Federal Credit Union?
Credit Union membership is open to persons who live, work, worship, or attend school in, and businesses and other legal entities located in Davidson County, Tennessee.
How To Join
Any eligible person can become a Outreach Federal Credit Union member either in person or by mail. A membership application must be completed with a minimum of $25 deposited into a savings account. If the new member signs up immediately for payroll deduction or direct deposit, the initial deposit to savings is only $25. The $25 always belongs to the member and stays in the savings account. Once the account is open and has a $25 balance, the new member can apply for loans or any other services offered by Outreach FCU.
Call for an appointment.
Why Offer a Credit Union Membership to Your Employees?
A financially sound employee is a more reliable employee. Outreach Federal Credit Union can provide your employees the tools necessary for future financial security. At last a benefit that costs you nothing!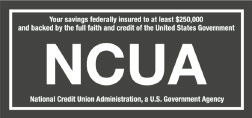 Your savings are federally insured to at least $250,000 and backed by the full faith and credit of the United States Government. National Credit Union Administration, a U.S. Government Agency.

Credit Union Applications and Forms
Click a button to download our...

Membership Application

Debit Card Application

Opt-In/Opt-Out Form

Debit Card Holds Actual Balance vs. Available Balance